.


26th of May 2011 the General Assembly of Estonian Trade Council decided to create, on the basis of Estonian Trade Council members, the Estonian national committee of ICC WBO: ICC Estonia. On June 11th 2011 confirmed ICC World Council ICC Estonian statue and Estonia was accepted to the ICC family. ICC is unique worldwide business organization which combines and represents foreign traders all over the world.The highest directive body of the ICC Estonia is the General Assembly, representing the member companies, which elect the Supervisory Board. Supervisory Board (council) appoints the executive Board – Secretary General. Download introduction materials for ICC and ICC Estonia (PDF):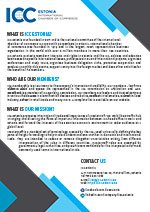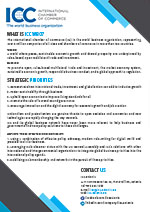 Secretary General
Peeter Puskai, contact peeter.puskai@icc-estonia.ee
Chairman of the Council
Tiit Tammemägi, PhD, contact tiit.tammemagi@icc-estonia.ee
Honorary Chairman
Andres Tamm, contact andres.tamm@elke.ee
Vice-Chairmans of the Council
Ülo Pärtel, contact ulo@kliko.ee
Raigo Tammo, contact raigo@estanc.ee
International Chamber of Commerce worldwide
ICC Worldwide
There are 92 national committees and 4 groups
.