ICC Export Conference Narva 2014
.
ICC International Export Conference Narva 2014
"Make Trade Simple!" in EU Border Town
.
---
.
| | | |
| --- | --- | --- |
| | | |
| This is Russia, view from Narva castle | Bridge over the EU border (Estonia on the left) | Confrontation of two castles |
.
.
A practical conference on how to make the complicated simple and how the logistics of an EU border town can help.
Intended for a wide circle of managers and specialists, exporters and importers, lawyers, logistics experts and forwarding agents looking to open new opportunities and find out about new practices in exports.
.
.
The ICC – International Chamber of Commerce – the leading World Business Organisa­tion has done a great deal of work to develop international trade regulations based on good trading practices. The collection of trade rules including ICC Model Contracts devised by the ICC is a common international language, linguafranca, that helps to improve the quality of export transactions, to make the transactions clearer, more binding, quicker in concluding, shorter and simpler.
.
"Make Trade Simple!" is the conception of using the ICC trade tools to:
make the complicated simple and understandable to everyone involved
improve the quality of export transactions
increase the certainty for export transactions and avoid miscommunication and losses in delivery
.
This is an area where there is a lot of room for development in many countries. Setting simplicity as a goal in export transactions, procedures and communication is the central theme of the conference.
.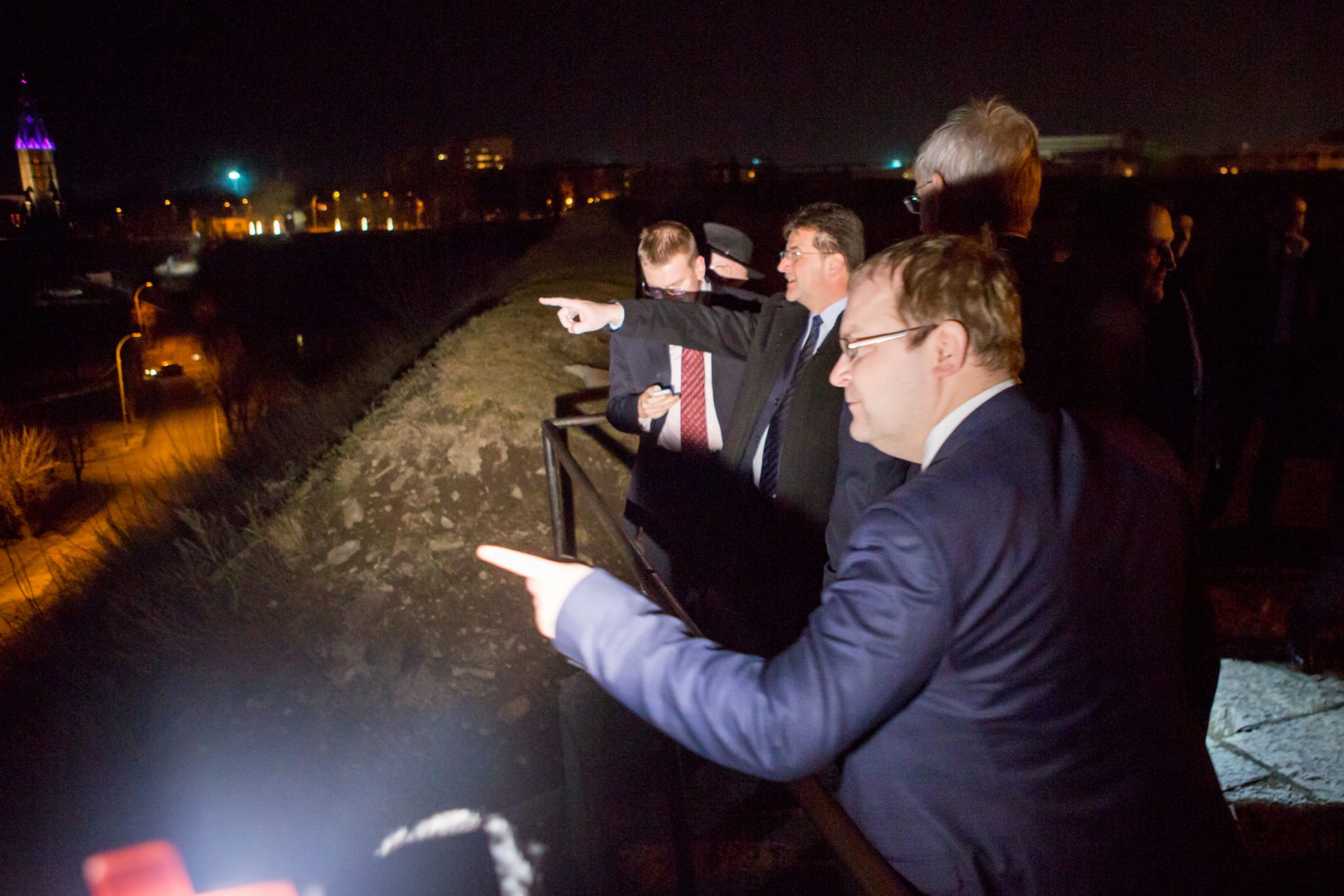 .
This is Russia over there!
The foreign ministers of the Nordic, Baltic and Visegrad countries began a two-day meeting in Narva on 6 March 2014. Estonia's Minister of Foreign Affairs, Mr Urmas Paet, on the front. Picture taken by Mr Eero Vabamägi, Delfi/Eesti Ajalehed
.
.
The conference presentations have been divided into three blocks:
trends and developments in international trade
export transactions
logistics
.
Presentations are given by internationally renowned experts and practitioners from London, Paris, Stockholm, Turin, Moscow, Estonia and elsewhere. Members of the ICC's Commission of Commercial Law and Practice will be on hand at the conference to answer your questions.
.
In addition to the presentations the programme includes visits to various businesses, mainly to sites that are not usually open for access.
Special attention will be focused on networking between the participants.
.
All current ICC Publications including model contracts, Incoterms® 2010 in various languages and other rules and regulations making up the lingua franca of international trade are available for a discount price at the conference.
The conference will be held at the Tartu University Narva College.
.
We have booked accommodation for the participants in Meresuu Spa Hotel in Narva-Jõesuu, which is also where the networking dinner will take place.
If needed, transport from Tallinn is available
.
.
.
Thursday,  5 June 2014
Friday, 6 June 2014

..

10:30

..

Arrival – morning coffee

……………………….

..

09:00

..

Arrival – morning coffee…………………………
11:00
Opening words to the conference.
Tiit Tammemägi, Secretary General of ICC Estonia
Paul Keres, moderator

 ……….

09:30
Narva as a historic site
Katri Raik, PhD, Director of Narva College
Estonia's role and opportunities at the EU's eastern gate.
Tiit Naber, Ambassador, Estonian Ministry of Foreign Affairs

International trade versus politics on the example of Ida-Virumaa
Heiti Hääl, Alexela Grupp, Member of Board
World economy in the turbulence of changes. The ICC as the promoter of international trade
Stefano Bertasi, ICC Policy Director
The Ida-Virumaa Industrial Areas Development foundation and the Narva Logistics and Industrial Park as promoters of exports.
Teet Kuusmik, Head of the Ida-Virumaa Industrial Areas Development foundation
International politics and economical relations regarding the last developments
Vladimir Juškin, Director of the Baltic Center for Russian Studies in Estonia
GoSwift electronic border queue booking system.
Marius Gutateladze, COO, GoSwift OÜ 

What does "Make Trade Simple!" mean, what is a good export deal and how can it be achieved using the ICC's tools and services?
Tiit Tammemägi, PhD, Secretary General of ICC Estonia
How the Narva Customs Station works.
Voldemar Linno, Head of the Narva border point, Estonian Tax and Customs Board

How to make efficient use of Incoterms® 2010 rules?
Prof Jan Ramberg, Stockholm
12:30
A closing word for the presentations
13:15
Lunch
13:00
Lunch
The new edition of the ICC Model International Sale Contractct has been published. Overview of ICC's other model contracts.
Prof Fabio Bortolotti, Chairman of ICC's Commission of Commercial Law and Practice

14:00
Visit to the Narva Road Border Point
The International Chamber of Commerce Principles to Facilitate Commercial Negotiation.
Emily O'Connor, Senior Policy Manager of ICC Commercial Law and Practice Commission
15:00
Visit to the development of the historic Kreenholm Textile Facory
Jaanus Mikk, Narva Gate manager

Commercial dispute resolution procedures: court or arbitration proceedings vs. amicable settlement between the parties.
Prof Nina Vilkova, Foreign Trade Academy, Moscow
16:00
Visit to the Narva Logistics and Industrial Park and Intec-Nakro Industrial Park
Teet Kuusmik, IVTA manager
Aleksandr Brokk, Intec-Nakro manager
Trading Frauds – examples, prevention and remedies. The valuable experience of the ICC Commercial Crime Services
Michael Howlett, Deputy Director of ICC CCS, London
17:00
Departure for Sillamäe

16:15
Field trip to Narva castle

17:15
Visit to Molycorp Silmet
18:30
Check in at Meresuu Spa hotel
18:00
Leaving for Tallinn! Thanks and farewells
19:30
Festive dinner. Networking
.
.
Participation fees:
.

The conference fee is €540, or €450 for members of ICC (Estonia) and €420 for gold members
.
It is possible to participate for a single day only. Prices for the separate days are €310 / €260 / €240
.
.
The fee does not include:
.
ICC Estonia can provide:
transport Tallinn—Narva—Tallinn for  €25
Meresuu Spa & Hotel: single standard room €70, double/twin room €80
.
Prices do not include Estonian VAT.
.
.
More information: by e-mail address icc@icc-estonia.ee or by phone +372 684 1252.
.