Study tour, export seminar – China, Japan, South Korea and Taiwan
November 2–18, 2015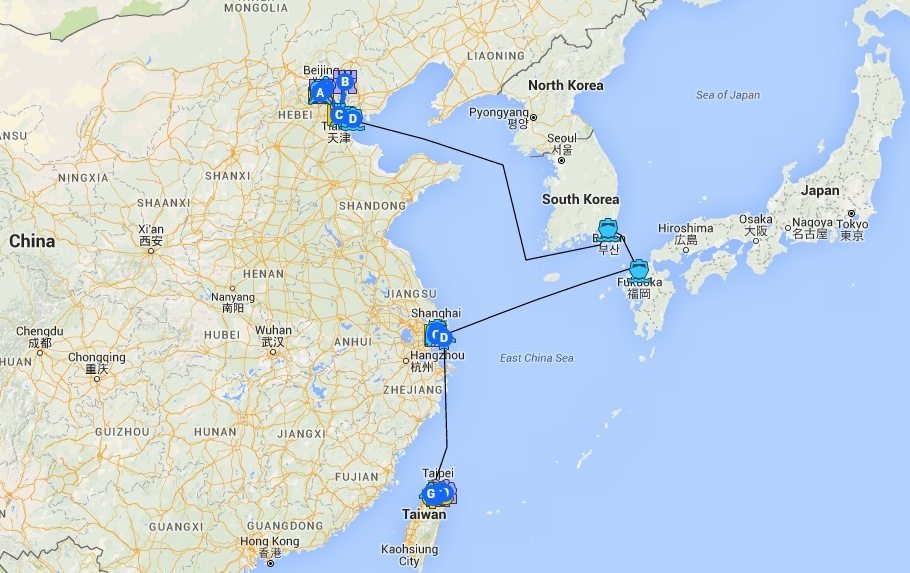 ICC Estonia arranges business delegations to different countries. From 2  to 18 November we are going to People's Republic of China, Japan, South Korea and Taiwan. Please find below the preliminary draft of the itinerary.
November 2, Monday: Tallinn – Helsinki – Beijing
12:30
Meeting at the Tallinn airport
14:45
Departure from Tallinn to Helsinki (AY108)
15:25
Arrival in Helsinki
18:00
Departure from Helsinki to Beijing (AY051)
November 3, Tuesday: Beijing
07:50
Arrival in Beijing International Airport
08:30
City sightseeing
12:00
Lunch
13:00
City sightseeing continues
17:00
Check in the hotel Crowne Plaza Beijing Wangfujing****, 48 Wangfuijing Avenue (2 nights)
November 4, Wednesday: Beijing
10:00
Business Seminar at ICC China, c/o CCOIC Building, No.2 Huapichang Hutong, Xicheng District, 100035 Beijing
12:30
Lunch
14:00
Company visit arranged by ICC China
16:30
Departure to the meeting at Estonian Embassy in Beijing, No. 1, Liangmaqiao Beixiaojie, Chaoyang District, 100600 Beijing
19:00
Beijing Opera Show
November 5, Thursday: Beijing – Tianjin
08:00
Beijing Half Day Hutong Trishaw Tour
13:15
Tianjin Bullet Train departs
13:51
Arrival in Tianjin
14:00
City sightseeing
17:30
Check in the hotel Radisson Blu Plaza Hotel Tianjin*****, 66 Xin Kai Road, 300011 Tianjin
November 6, Friday: Tianjin
08:00
Tianjin Huangyaguan Great Wall Tour
14:00
Lunch
18:00
Export seminar
November 7, Saturday: Tianjin –"Quantum of the Seas"
08:00
Transfer to Tianjin International Cruis Home Port
13:45
Transfer to cruising ship Quantum of the Seas
17:00
The ship departs for sailing: 5 night Busan & Fukuoka Cruise
17:30
Dinner
November 8, Sunday: sailing
10:00
Export seminar
16:00
Free time
November 9, Monday: Busan (South Korea)
09:00
Export seminar
10:00
Arrival in Busan
11:30
Shore & Land Excursion (Haedong Yonggungsa Temple, Gukje Market and City Tour)
20:00
Departure from Busan to Fukuoka
November 10, Tuesday: Fukuoka (Japan)
07:00
Arrival on Fukuoka
08:00
Shore & Land Excursion (Highlights of Fukuoka Half Day)
16:00
Export seminar
17:00
Departure from Fukuoka to Baoshan
November 11, Wednesday: sailing
10:00
Export seminar
Free time
18:00
Dinner
November 12, Thursday: Baoshan – Shanghai
06:00
Arrival in Baoshan
08:30
City sightseeing and transfer to Shanghai
14:00
Lunch
17:00
Check in the Narada Botique Hotel ***+, 839 Ren Min Road (2 nights)
18:00
Departure to Acrobatic Show
November 13, Friday: Shanghai
10:00
Business seminar at ICC China – CCIP Shanghai
14:00
Company visit arranged by ICC China
19:00
Huangpu River Cruise and Bund City Lights Evening Tour of Shanghai
November 14, Saturday: Shanghai – Taipei (Taiwan)
06:00
Transfer to Airport
09:10
Departure form Shanghai to Taipei (FM801)
11:05
Arrival in Taipei
11:30
City sightseeing
17:00
Check in the hotel United****, 200, Kwang Fu S. Road, Taipei, Taiwan, R.O.C. (3 nights)
18:30
Departure to Shi Lin Night Market
November 15, Sunday: Taipei
08:00
Departure to full day sightseeing to North-East coastline: Yehliu Park, Keelung Jiufen old street etc.
13:00
Lunch
19:00
Back to the hotel
November 16, Monday: Taipei
10:00
Business Forum at ICC Taipei, B2B meetings
14:00
Lunch
Company visit
17:00
Visit to Taipei 101
November 17, Tuesday: Taipei – Hong Kong
 
Free time
11:00
Departure to Yingge Ceramic City
17:00
Arrival at Shanghai International Airport
19:30
Departure from Taipei to Hong Kong (CX451)
21:30
Arrival in Hong Kong
November 18, Wednesday: Hong Kong – Helsinki – Tallinn
00:45
Departure from Hong Kong to Helsinki (AY070)
05:45
Arrival in Helsinki
07:30
Departure from Helsinki to Tallinn (AY111)
08:00
Artival in Tallinn
.
Click here for the route map..
.
Contact information
E-mail: icc@icc-estonia.ee
Phone: +372 684 1252